"His uncanny ability to bring out the hidden mystique of a subject is partly a result of the feeling it arouses within him, and the references it triggers in his imagination. The titles - Hysteria, Whisper, Dance - bear the clues."
Janet Kutner, The Dallas Morning News, December 17, 1993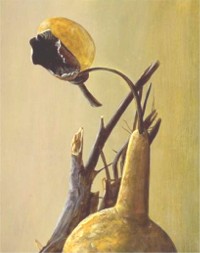 James Dowell, Spike, 1998. Oil on canvas, 21.5 in. x 20 in.
"Many people find Dowell's work ominous, but they are overreacting to the presence of animal skulls and dead wood. Choosing the objects for a still life always implies a degree of delectation. In Dowell's work there is also an element of insouciance and a somewhat decadent feel to the pleasure he takes in lavishing attention on an unremarkable detail or indicating sunlight by a bright smear of orange paint."
Charles Dee Mitchell, Artspace, Summer, 1986
" Nature is usually represented in Dowell's paintings, as well, but it's rarely just pretty - there's an almost harsh romanticism at work. His assemblages of associatively-loaded objects, predatory flowers, dried branches, and animal horns remind us, by their faint but unmistakable ominousness, that that the French term for still life is literally 'dead nature'."
Alfred Sturtevant, catalogue James Dowell Recent Paintings, Soho Center for Visual Artists, New York, 1986